The most important part of a ceremony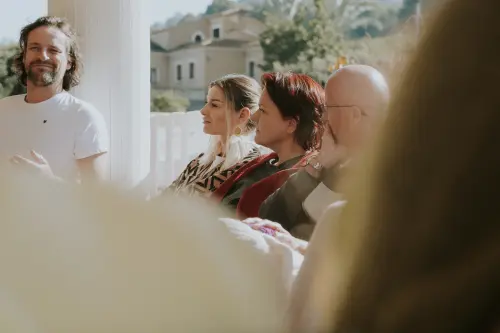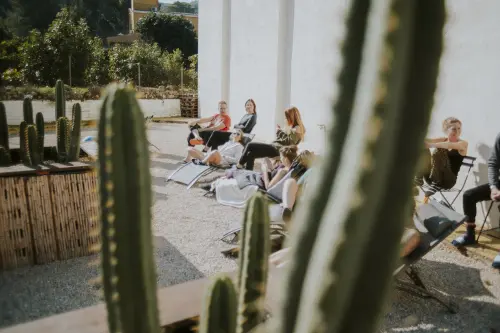 Integration has proven to be the key for participants to move from a transformative experience to a transformed life. That is why at OMMIJ we have a strong focus on integrative practices. We ensure that you have the support, knowledge, tools and community, to put the lessons and insights learned during your Ayahuasca and Plant Medicine experience into practice in your daily life when you return home.
The experience you have during a ayahuasca or San Pedro ceremony is not the most important part. It is the integration. It is what you do with the knowledge and insights gained and how they change the way you live your life. The biggest challenge in your healing process is not actually achieving the transformative experience, but retaining those important changes and putting them into practice in your daily life when you go back home.
You may have changed, but the people and situations that probably contributed to the conditions and ailments that brought you to the ceremony remained the same. How you handle these situations will determine the success of your herbal medicine experience. This is why all participants meet in a circle a day after the ceremony, where our experienced ceremony leaders and guides help you interpret what happened and find ways to use it to change your life.
A ceremony or retreat with OMMIJ does not end when you return home. We ensure that each participant has the support, knowledge, tools and community to move from a transformative experience to a transformed life.
Below are some tools for successful integration.
Most participants feel lighter, calmer and happier after an ayahuasca or San Pedro ceremony. However, for some participants, the experience can release pent-up feelings of anger or pain that can feel overwhelming and need time to process. This is nothing to worry about and is part of the healing process.
If you feel you need some extra help with these issues, we are here for you. We offer one-to-one aftercare sessions to help you process and integrate your experiences. Besides our aftercare, we work together with a psychologist. She has a lot of experience with ayahuasca and offers sessions in Dutch or English. Please feel free to contact us. These sessions aren't free!
We invite all participants to join our "Tribe of OMMIJ" private group on facebook. This is a global community where you can connect with our guides and fellow participants who have gone through similar experiences, express your feelings, open your heart, share meaningful lessons, get inspiration and support, as well as celebrate life and enjoy a good laugh.
Diaries can be an incredibly valuable tool in your Ayahuasca integration process. It is an effective way to assimilate and make sense of the vast amount of information the plant medicine reveals. Writing things down can feel grounding, calming and even healing. Writing just for yourself clarifies thoughts and feelings and helps you recognise patterns running through your life. Diaries have a way of unlocking deeper thoughts and insights from your inner self. We encourage you to journal for 10 minutes daily for at least two weeks after your closing ceremony.
Meditation is one of the most valuable practices to help in the important process of integration. Some scientific research on Ayahuasca has found that Ayahuasca has a similar effect on the brain as regular meditation. Both Ayahuasca and meditation increase openness, optimism and the ability to objectively observe your thoughts and feelings without associating them with identity. This symbiosis means that meditation can be the ideal means to integrate an Ayahuasca experience. We recommend meditating for 10 minutes daily for at least two weeks after your closing ceremony.
Spending time in nature is a great way to ground and find peace. Walking through a park or a forest or over green grass and listening to birdsong and nature sounds can have similar beneficial effects as meditation. It clears your mind, expands your awareness and lets you feel your body and its connection to the world around you. So if you can't sit still and meditate – get your butt outside 😉
Find your true self and become free again.